Our Locations & Technology
We are proud to announce that Notaro Epstein Family Law Group, P.C. has the ability to perform meetings anytime and anyplace with the technology of video conferencing. We are capable of using most platforms, including Zoom, Google Meet, Google Duo, Skype, Teams, Vonage, and various other meeting applications. ADDITIONALLY, in an effort to promote top-of-the-line document security as well as convenience, and in an effort to comply with many counties' online filing requirements, our clients now have access to their client files using a secure application that can be downloaded on any tablet or mobile device. Clients can now access important documents easily, sign things, pass along documents, and securely message their attorneys through the application with the click of a button.
Using advanced technology does not in any way mean that we don't believe in the importance of meeting our clients in person and getting to know them and their individual cases. Divorce is an intimate process. We are physically present in our offices 9-5 weekdays. Currently, we schedule all in-person meetings during normal business hours at our downtown office. We will also meet, obviously, at Court, in other offices for negotiations, various locations for depositions, etc. We also travel for all of our collaborative cases. We maintain 4 satellite locations along with our downtown location to cement our presence in those areas. Rest assured, just because WE are in our downtown location most often doesn't mean that you have to be! In our post-COVID world, we can work with you to perform the legal services you need anywhere we are licensed.
Pittsburgh

310 Grant Street,
Suite 1125,
Pittsburgh, PA 15219 [+] Map & Directions

Pittsburgh

301 Grant St.,
One Oxford Centre Ste. 305,
Pittsburgh, PA 15219 [+] Map & Directions

Bakery Square

6425 Living Pl.,
Ste. 200,
Pittsburgh, PA 15206 [+] Map & Directions

Monroeville

201 Penn Center Blvd.
Monroeville, PA 15235 [+] Map & Directions

Canonsburg

2400 Ansys Dr.,
Ste. 102,
Canonsburg, PA 15317 [+] Map & Directions

Cranberry Twp.

2009 Mackenzie Way,
Suite 100,
Cranberry Twp., PA 16066 [+] Map & Directions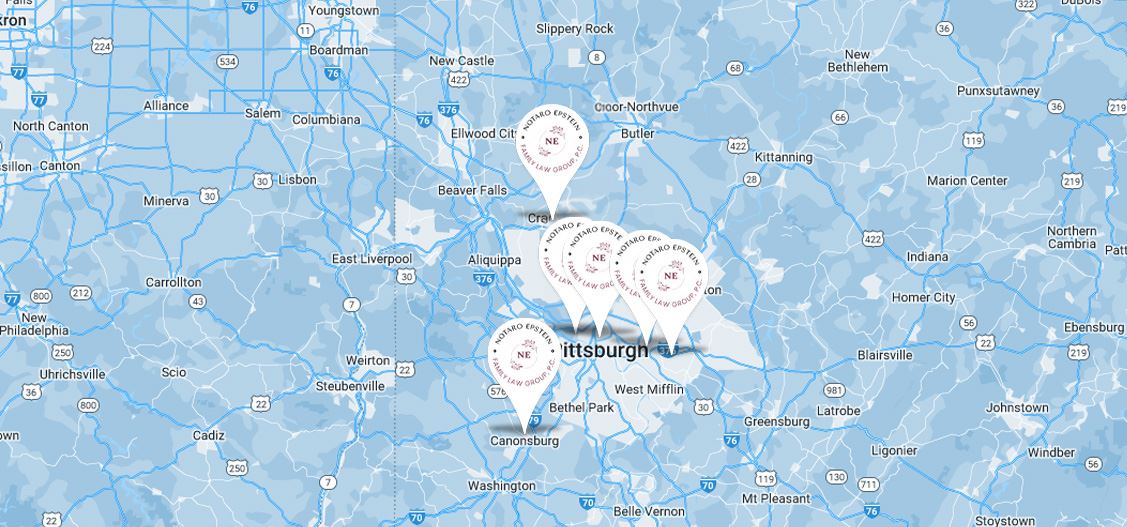 Margo R. Epstein, Esq.

Margo R. Epstein, Esq. is an attorney at Notaro Epstein Family Law Group, P.C. offering to her clients over a decade of experience in the legal profession. As a family law attorney, Margo places a high importance on listening to her clients and their unique circumstances so that she can help create solutions that make sense to their specific situations as there is no 'one size fits all' solution to families going through divorce or custody matters.

View Profile

Bethany L. Notaro, Esq.

Bethany L. Notaro, Esq. has her legal roots in Pennsylvania. As an undergraduate student, she attended the University of Pennsylvania, Philadelphia where she received a bachelor's degree in psychology. After her undergraduate work, Bethany attended the University of Pittsburgh School of Law, where she obtained her Juris Doctorate. While in law school, Ms. Notaro received numerous scholarships and honors for her academic achievement and focused her studies on income taxation, trusts and estate, divorce, ADR, and wealth planning. Specifically, she received training in alternative dispute resolution (ADR) and family law and professional divorce mediation.

View Profile

Danielle N. Santoro, Esq.

Danielle N. Santoro, Esq. is an associate attorney who has successfully assisted clients with a variety of family law matters including divorce, child custody, child and spousal support, marital property distribution, and prenuptial agreements. Prior to joining Notaro Epstein Family Law Group, P.C., Danielle was an associate at KPMG, a "Big 4" accounting firm, where she focused her practice in tax law consulting and tax aspects surrounding merger and acquisition deals.

View Profile

Amanda S. McGeary, Esq.

Amanda S. McGeary is an associate attorney who has successfully assisted clients with a variety of family law matters. Amanda joined Notaro Epstein Family Law Group as a recent law school graduate in 2022, exuding a passion for helping clients navigate their family law matters.

View Profile

Christy R. Martin, MCC

Christy is a former professional ballet dancer with a Bachelor of Science in Business Management from Point Park University. She is Notaro Epstein's Director of Client Development and is a Master Certified Life Coach (MCLC). She enjoys encouraging and guiding others by providing techniques and tools catered to their ambitions and goals.

View Profile

Chrystal C. Tinstman, Esq.

Chrystal C. Tinstman is an attorney with more than 24 years of legal practice experience in Allegheny, Beaver, Butler, Lawrence, Washington and Westmoreland Counties. She is focused on making sure her clients' emotional and financial needs are addressed during this most stressful time in their lives. Sometimes clients' motivations and emotional needs do not coincide with the best legal strategy so Chrystal helps clients reconcile this contradiction with zealous efforts to resolve situations amicably or by passionately and effectively advocating through litigation when the need arises.

View Profile

Erika M. Reichert, Esq.

Erika graduated from Duquesne University School of Law, where she participated in the Juvenile Defender Clinic. Prior to law school, Erika graduated cum laude from the University of Pittsburgh, with a Bachelor of Arts degree in Administration of Justice. While attending the University of Pittsburgh, Erika was also a member of the Women's Gymnastics Team where she was a four-year letter recipient and was placed on the ACC Academic Honor Roll.

View Profile
Margo R. Epstein, Esq.

Margo R. Epstein, Esq. is an attorney at Notaro Epstein Family Law Group, P.C. offering to her clients over a decade of experience in the legal profession. As a family law attorney, Margo places a high importance on listening to her clients and their unique circumstances so that she can help create solutions that make sense to their specific situations as there is no 'one size fits all' solution to families going through divorce or custody matters.

View Profile

Bethany L. Notaro, Esq.

Bethany L. Notaro, Esq. has her legal roots in Pennsylvania. As an undergraduate student, she attended the University of Pennsylvania, Philadelphia where she received a bachelor's degree in psychology. After her undergraduate work, Bethany attended the University of Pittsburgh School of Law, where she obtained her Juris Doctorate. While in law school, Ms. Notaro received numerous scholarships and honors for her academic achievement and focused her studies on income taxation, trusts and estate, divorce, ADR, and wealth planning. Specifically, she received training in alternative dispute resolution (ADR) and family law and professional divorce mediation.

View Profile

Danielle N. Santoro, Esq.

Danielle N. Santoro, Esq. is an associate attorney who has successfully assisted clients with a variety of family law matters including divorce, child custody, child and spousal support, marital property distribution, and prenuptial agreements. Prior to joining Notaro Epstein Family Law Group, P.C., Danielle was an associate at KPMG, a "Big 4" accounting firm, where she focused her practice in tax law consulting and tax aspects surrounding merger and acquisition deals.

View Profile

Amanda S. McGeary, Esq.

Amanda S. McGeary is an associate attorney who has successfully assisted clients with a variety of family law matters. Amanda joined Notaro Epstein Family Law Group as a recent law school graduate in 2022, exuding a passion for helping clients navigate their family law matters.

View Profile

Christy R. Martin, MCC

Christy is a former professional ballet dancer with a Bachelor of Science in Business Management from Point Park University. She is Notaro Epstein's Director of Client Development and is a Master Certified Life Coach (MCLC). She enjoys encouraging and guiding others by providing techniques and tools catered to their ambitions and goals.

View Profile

Chrystal C. Tinstman, Esq.

Chrystal C. Tinstman is an attorney with more than 24 years of legal practice experience in Allegheny, Beaver, Butler, Lawrence, Washington and Westmoreland Counties. She is focused on making sure her clients' emotional and financial needs are addressed during this most stressful time in their lives. Sometimes clients' motivations and emotional needs do not coincide with the best legal strategy so Chrystal helps clients reconcile this contradiction with zealous efforts to resolve situations amicably or by passionately and effectively advocating through litigation when the need arises.

View Profile

Erika M. Reichert, Esq.

Erika graduated from Duquesne University School of Law, where she participated in the Juvenile Defender Clinic. Prior to law school, Erika graduated cum laude from the University of Pittsburgh, with a Bachelor of Arts degree in Administration of Justice. While attending the University of Pittsburgh, Erika was also a member of the Women's Gymnastics Team where she was a four-year letter recipient and was placed on the ACC Academic Honor Roll.

View Profile
DEDICATED TO PROVIDING
Personal Service
"I have had an ongoing custody issue for several years and Notaro Epstein Family Law Group, P.C. has been with me every step of the ..."

-Former Client

"Notaro Epstein Family Law Group, P.C. represented me for my divorce case last year. When you have a divorce, there are a lot of ..."

-Former Client

"I have used Bethany Notaro several times over the years. Each time, I have found her to be professional and capable. She is ..."

-Former Client

"Bethany Notaro and her staff were awesome! They turned something that could have been awful and complicated into a completely ..."

-Former Client

"I found Bethany Notaro to be intelligent and very capable in her field. My divorce was a very difficult time for me. She was ..."

-Former Client
CONTACT NOTARO EPSTEIN FAMILY LAW GROUP, P.C. TODAY
You Are Not Alone - Learn More About Your Options